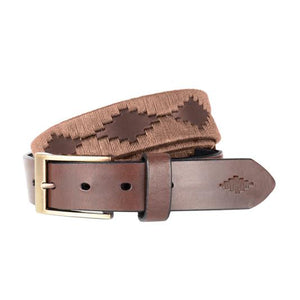 Pampeano Polo Leather Belt - Bordado Brown
Regular price
Sale price
$98.00
Tax included.
---
We have teamed up with Pampeano to supply a range of their most popular high quality, award winning, classic unisex leather polo belts and plain leather belts.
Each classic polo leather belt is handmade and hand stitched in Argentina using cow leather, and has undergone a traditional eco friendly vegetable tanning process resulting in a super soft leather. Upon tanning, each belt will take 5 hours to manually construct and no two belts are the same.

The premium brown bordado belt has a bold brown design and comes complete with an antique gold finished buckle.
The iconic 'pampa' diamonds on each belt are ancient South American depictions of the Andes mountains which have been passed down through families of local artisans for generations. They are made using strong wax dipped saddlery thread and hand woven in a meticulous process that cannot be replicated by machine.

With quality craftsmanship and high grade materials, a Pampeano belt should last for years to come, and improve with age.
Each belt arrives in a presentation gift box.
SIZING GUIDANCE
Pampeano polo leather belts are available in eight sizes allowing for the belt to be purchased without a long overhang or extra holes being required. A perfect fitting belt is one which is worn in the central hole. With this in mind an aid in choosing the correct size, measured from the start of the leather at the buckle to the middle hole, is as follows :
80cm (32") to middle hole

85cm (34") to middle hole
90cm (36") to middle hole
95cm (38") to middle hole
100cm (40") to middle hole
105cm (42") to middle hole
110cm (44") to middle hole
115cm (46") to middle hole
Tips : Measure your existing belt from the start of the leather at the buckle to the hole you mostly use. Use this measurement as a guide in purchasing the correct size.
Pampeano belts have 5 holes. Should you fit the middle hole you will have 2 holes, and therefore 2 inches, either side of the middle hole. An 85cm belt would therefore fit 32" to 36" and a 90cm belt would fit 34" to 38".